Tuesday, 5 February, 2019
The award was presented within the framework of the Night of Telecommunications, an event organized by the Association of Telecommunications Engineers of Aragon and the Territorial Demarcation of COIT in Aragon.
Last Friday, INTEGRA received the Company of the Year award in recognition of its long business career focused on the development of innovative technologies and services in the field of ICT, and for its wide projection at a national and international level. The award was presented during the Telecommunications Night, an event in which the Information Society Awards are presented, with the aim of recognizing those individuals, companies and institutions that have proven to be a true benchmark of good practice in the sector of New Information Technologies and Telecommunications.
After the award ceremony, the General Director of INTEGRA, Félix Gil, encouraged all those present to "bet, collaborate and cooperate to promote mechanisms for the development and attraction of talent", as "we need to continue creating and pulling with talent, because without talent there is no capacity to innovate", he added.
In this sense, Felix Gil explained that INTEGRA's main mission is innovation: "without innovation we would not have been able to develop products and services such as our e-learning platform, Virtuox; our digital consulting platform, Proquo; or our hotel platform, Suitech; which are the ones that have led us to work with large companies nationwide.
Finally, the General Director of INTEGRA expressed his gratitude to all the agents who, in his opinion, have made it possible to obtain this award: "I would like to thank all the team that makes up this small large family that is Integra Estrategia y Tecnología, our clients, our partners and allies, and the Pascual family who, with their mission and vision, have helped us to continue developing this project and to be worthy of this award".
Telecommunications Night
Since it was first held in 2001, the Aragon Telecommunications and Information Society Night has become one of the most important social and professional events in the sector in the Community. On this occasion, the event was held at the Hotel Reina Petronila in Zaragoza and began with a conference on ICT services in which Patricia Heredia, co-founder of miniVinci, and José Luis Latorre, General Manager of Inycom, as well as the Minister of Innovation, Research and University of the Government of Aragon, Pilar Alegría, took the floor.
This was followed by the gala dinner during which the Information Society of Aragon awards were presented, which recognised, in addition to INTEGRA as Company of the Year, MiniVinci as a Junior Company, and José Luis Armenteros Picazo, Honorary Information Society Award. Aragón 2019; and José Luis Latorre Martínez, Special Prize.
Integra Strategy and Technology
Integra is a Aragonese family business with more than 30 years of trajectory that began its activity in Calatayud as a training center, and has evolved to become today a consulting strategy and technology reference. It is currently formed by a team of more than 500 people in continuous training and growth, and has a strong national presence, with presence in Zaragoza, Madrid, Barcelona, Bilbao and Alicante, and with a view to its expansion plan in the international market. The mission of the entire INTEGRA team is "to anticipate the technological needs of its clients, understanding their now, and envisioning their future, providing support through technological, strategic and visionary solutions".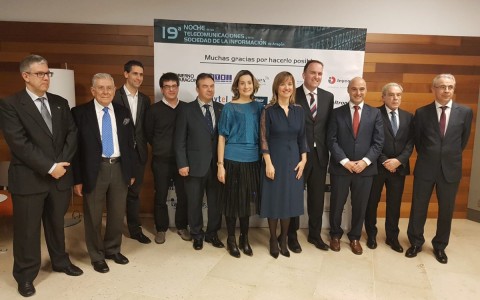 Back