Wednesday, 15 April, 2020
Integra and Libelium join forces to develop an innovative solution to control people and vehicles during the alarm state.
A month ago, as the news placing Zaragoza as an emergent SmartCity was published, we started our future dream by developing Integra-Libelium joint solution called S-PACES.
At that time, COVID-19 crisis had not broken out yet. It seems like we were anticipating what it was coming that same week: the fast virus expansion and the measures taken by the Government such us the confinement of the entire population.
Having already introduced S-PACES solution has enabled us to place immediately at the service of Public Institutions to control the traffic of people and vehicles all around the world and make sure that confinement measures are followed in order to win the battle against Coronavirus.
Government security forces are already monitoring 24/7 the effective compliance with the measures in real time. This solution also helps to reinforce security on hot points where more traffic is detected and it is used as a deterrent strategy against the ones pretending to disobey the law.
Meshlium Scanner devices placed throughout the city can detect Wi-Fi and Bluetooth signals send out by people and vehicles mobile devices. Without being connected to a specific access point, any mobile or vehicle hands-free device can be detected when getting into the detection rate.
After being processed, all data are visually displayed on the innovative solution S-PACES.
The tool generates charts showing the evolution of people and vehicles circulation on different city areas over the time as well as alarms if certain traffic is exceed or many people are gathering on a certain point.
Integra is already speaking with international Public Institutions to introduce this solution on their countries.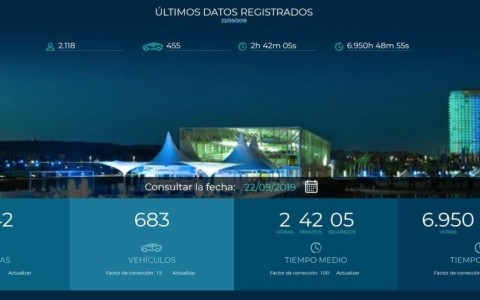 Back