The IoT Solutions World Congress Digital Summit 2021 took place on the 11th and 12th of May. It's an online event about Internet of Things organized by Fira de Barcelona and the Industrial Internet Consortium (IIC). The main topics were disruptive technology and cybersecurity, and the event held over 37 presentations with over 80 experts and executives from big companies participating in them.
Integra has been present for the first time in the Digital Summit of the IoT Solutions World Congress in which we have participated many times. Félix Gil, the CEO of Integra and Gabriel García, BDM of IoT, presented a success case of digital twins applied to the fresh fish industry.
An agenda of "slide events" also took place during the event that will count with presentations of real uses cases as well as debates about digital transformation trends in different sectors between technology companies and experts.
This Digital Summit will precede the next edition of the IOTSWC that will take place from the 5th to the 7th of October at the venue Gran Via of Fira de Barcelona, and its motto will be "Connect with Game Changers".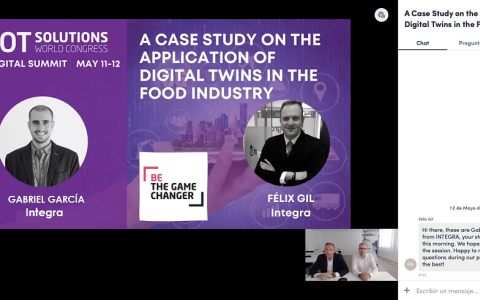 Back