FITUR 2021 took place from the 19th to the 23rd of May. It was a special edition marked by the urgent need of recovering tourism globally.
Due to the pandemic, this year it was held in a hybrid format, both on-site and online. 5.000 companies from 55 different countries participated in the event.
Integra participated in FITUR presenting CICLOPS, software used to manage Smart Destinations developed with the help of Inteligencia Turística, a technology consulting firm specialized in the implementation of travel intelligence systems and the transformation of smart tourism.
This Smart Destinations tool was a project made for the City Hall of Benidorm, which helped improve their Comprehensive Management System as the first certified Smart Destination in the world. This year, the certification was renewed.
Furthermore, our colleague Diego Martín, BDM of Software Development at Integra, participated along with Celia Romero, CEO of Inteligencia Turística, in the workshop about the importance of normalizing Smart Destinations.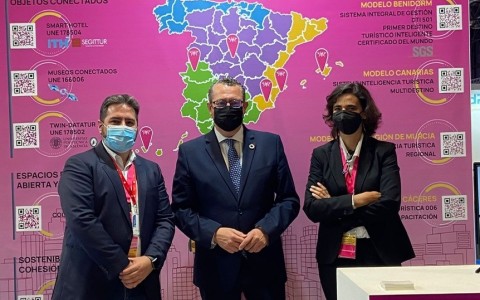 Back